The Chicken Coop is available for purchase from the Store under the Facilities tab. On February 19, 2010, it was turned into a Facility after first being introduced as a Building. It collects eggs from Hens and Geese on your farm. Hen Eggs are needed to make products at the Bakery.
Store Animals
Edit
On June 18, 2010, Hens, Geese, Turkeys, Chickens, and Roosters were made able to be stored in the Chicken Coop. Up to 180 of each animal type can be added. All animals inside the Chicken Coop will be lost if added to your Storage while they are inside. You must first take the animals out before putting into Storage.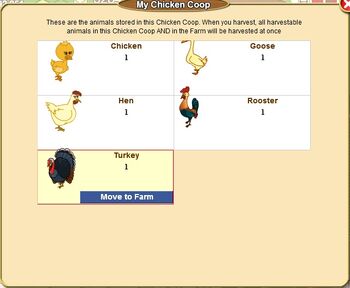 Harvestable Animals
Edit
Currently, Hens and Geese are the only animals harvestable by the Chicken Coop. When "Harvest Hens and Geese" is selected, all the havestable animals in the Chicken Coop and in the farm will be harvested at once. You can collect eggs from each animal every once a day.
Animal
Product
Time
Coins/Batch
Experience Gained
Facility Product Used At
Hen
Hen Eggs
20 hrs
25
+0
Bakery
Goose
Goose Eggs
20 hrs
30
+0
Bed and Breakfast
Peacock
Peacock Feathers
+402
Hat Shop
Turkey
Turkey Feathers
Bed and Breakfast

Luxury Hotel

Sports Arena

Pub

Balloon Bust Booth

Fishing Tackle Shop

Funeral Home

Airline Terminal

Theater

Home Decor Store

Household Linens Store

Dollar Store

Pet Shop

Indian Trading Post

Dance Studio