On February 19, 2010, the Dairy Shed was turned into a Facility and became available at Level 27 instead of previously Level 49. It is currently available at Level 14. The Dairy Shed is available for purchase from the Store under the Facilities tab. It collects milk from Cows and Goats on your farm. Cow Milk is needed to make products at the Dairy Processing Plant and Ice Cream Factory. Goat Milk is needed to make Goat Cheese at the Dairy Processing Plant.
Store Animals
Edit
On June 18, 2010, Cows and Goats were made able to be stored in the Dairy Shed. Up to 100 (180 as of 1 Nov. 2013) of each animal type can be added. You are not allowed to move the Dairy Shed to your Storage if animals  are inside. You must first take the animals out before putting into Storage.  You are allowed to delete the Dairy Shed.  If you do so with animals inside, they become inaccessible until such time as you put another Dairy Shed on the farm.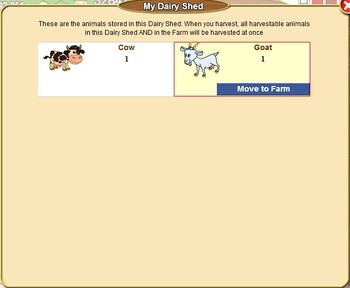 Harvestable Animals
Edit
Currently, Cows and Goats are the only animals harvestable by the Dairy Shed. When "Harvest Cows and Goats" is selected, all the havestable animals in the Dairy Shed and in the farm will be harvested at once. You can collect milk from each animal every 8 hours.