The Wool Shed is available for purchase from the Store under the Facilities tab. On February 19, 2010, it was turned into a Facility after first being introduced as a Building. The Wool Shed collects wool from Sheep and Llamas on your farm, which is used to make Products at the Textile Mill.
Store Animals
Edit
On June 18, 2010, Sheep and Llamas were made able to be stored in the Wool Shed. Up to 100 of each animal type can be added. All animals inside the Wool Shed will be lost if added to your Storage while they are inside. You must first take the animals out before putting into Storage.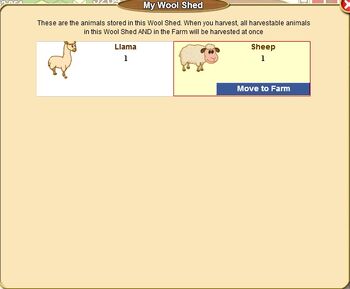 Harvestable Animals
Edit
Currently, Sheep and Llamas are the only animals harvestable by the Wool Shed. When "Harvest Sheep and Llamas" is selected, all the havestable animals in the Wool Shed and in the farm will be harvested at once. You can collect wool from each animal every 2 days.